Customer Reviews
Write a Review
Ask a Question
10/08/2020
Frenchie D.

United States
Always Satisfied
The customer service was always good when the stores were open. I am usually very happy with teh product. I have been using your product for a few years now. I wouldn't change.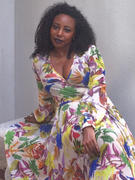 10/02/2021
Cass

United States
Tahitian Dreams Flowing!
Amazing!!!! This hair is worth every single penny. Soft lush minimal shedding, no matting on your neck. You definitely get what you pay for. I have been looking for a better quality brand of hair for awhile and I hesitated to purchase this hair...my mistake. This hair is quality and it's not even their highest quality. I started wearing this hair in June and it is still looking good! Invest in this hair. You will not be disappointed.
Great hair
This is some good hair the only problem I have is the hair shreds a lot in my brush.
Features
Beautiful free flowing very defined waves that can cost you a lot less with this bundle deal should be a must buy if you are looking for full coverage in steam textured wavy hair. These extensions are easy to wear and super light to carry. You can have them in a bundle deal with choices of length and also get the closures. You can choose from the variety. The bundle length range is from 12 inches to 22 inches and prices $267 onwards.
Hair Care
Due to the steam curling process, we do not recommend straightening this texture as it will loosen the wave pattern. To revive your waves, spray them with water, scrunch, use a paddle brush to detangle, distribute product evenly and allow them to air-dry for extra volume. You must note that only sulfate-free shampoo and conditioner are used in order to maintain the softness and manageability of the extensions. Curl defining products are more effective when applied to wet hair. Mix these products with our French Argan Oil to see great results.
Durability
A single install of SEA Tahitian Wave Bundle Deal will last up to 8 weeks. The bundles can last up to 10 months if removed and maintained properly.