Customer Reviews
Write a Review
Ask a Question
03/02/2023
Sinead P.

United States
Get it
I love the ponytail so far. I've been wearing it for a week and it hasn't fallen off The hair is soft and it's close to blow out texture. The only thing I don't like is the bulk of the netted part that is used to cover your hair.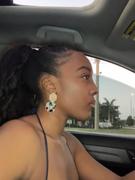 The best drawstring ponytail ever!
I love this ponytail. It is a lifesaver! I love that is sooooo full and super easy to put in and take down. I love using it for my go-to bun style for last minute video calls! Everyone needs a quick pony like this.
Features
The beautiful fluffy hair bun that comes with a drawstring to get a ponytail installed in snaps. This blown out texture is made from Virgin Indian hair that is dyed in 1b tone for a seamless look. You can get this low luster good quality hair in 12 and 22 inches. The price range starts from $159
Hair Care
You should regularly wash your ponytail, as needed. When cleansing, it is best to saturate shampoo and conditioner in a bowl of water. To keep the softness and manageability, we advise applying our sulfate-free Indique Hair Care Essentials shampoo and conditioner. To keep the extensions' softness and color, we advise utilizing Indique Essentials sulfate-free products. We advise against coloring the Remix Collection because it has been colored to a 1B tone.
Durability
Remix Blow Out Ponytail Extension will last up to 12 months.