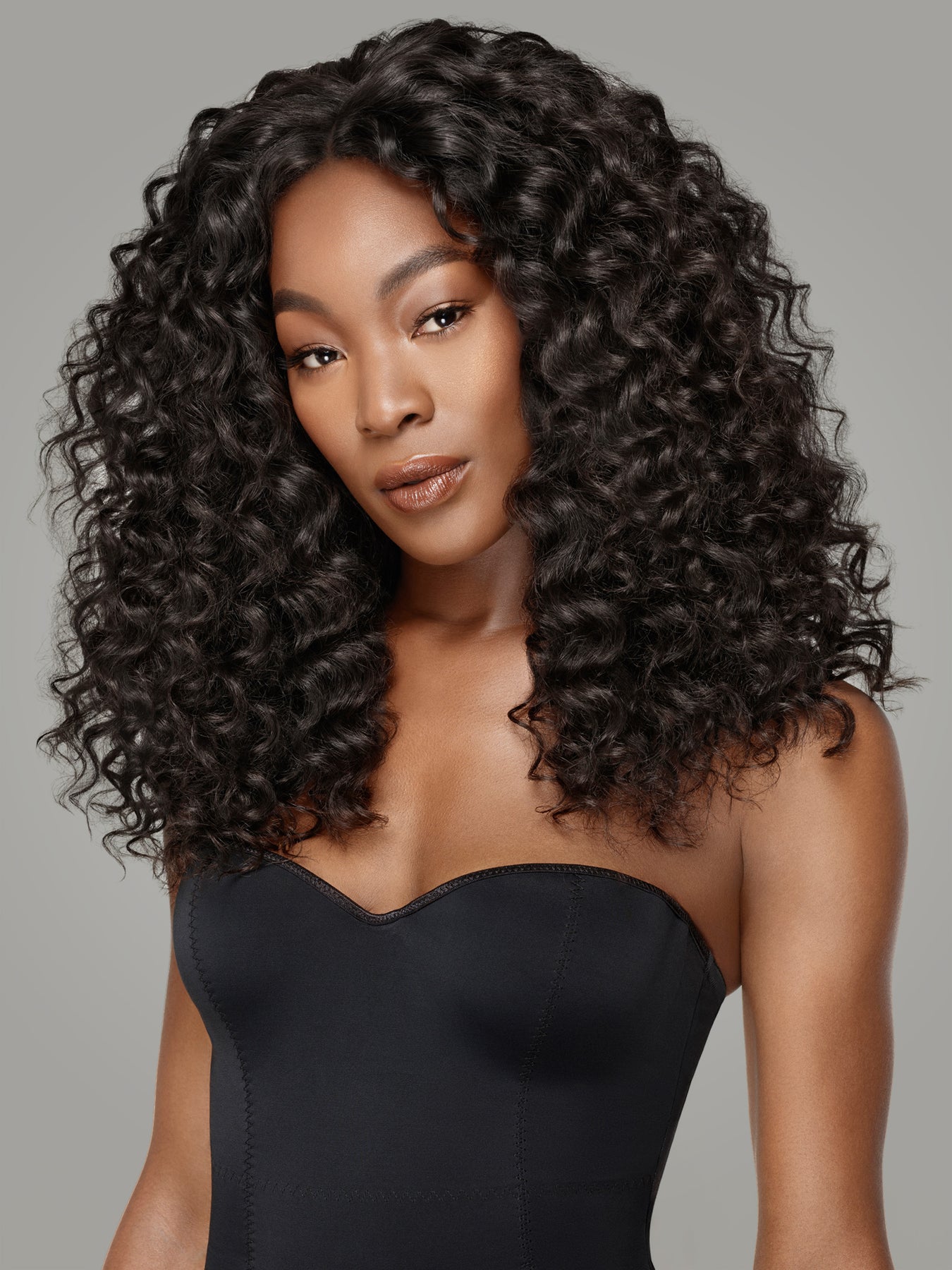 Bounce Deep Wave Hair Extensions
Do you love naturally wavy textures but desire something with a bit more fullness? BOUNCE Deep Wave is the perfect match! This undeniable deep wavy remy hair texture is created with a special 3-day steaming process. Deep Wave is packed with tons of volume and gorgeous waves, allowing you to create the style of your dreams.
Bounce is our collection of steam-textured virgin Indian hair offering a variety of patterns for every hair type. These steamed textures were designed to match every kink and curl for the perfect blend. Whether its a wash-and-go with curly hair or a silky press with a textured straight, the Bounce Collection has just what you need for the most natural look.
Each piece of Bounce contains approx. 3.75oz of hair (~105-107grams) for 10in and 14in lengths and approx. 4oz of hair (~110 grams) for 18in and 22in.
For a full install of Bounce:
10-14 inches: 2 bundles
18-22 inches: 2-3 bundles depending on desired fullness
Please note that bundle recommendations are suggestions and will vary based on desired fullness. Also take into account the amount of leave-out or if a closure will be incorporated into the install. We advise that you consult with your stylist if you're unsure.
Bounce is our chemical-free, steam process collection of virgin Indian hair. Due to the innovative steam curling process, we do not recommend straightening any texture in this collection that has a wave or curl pattern. 
Product Suggestions:
Indique Hair Care Essentials French Argan Oil
Curl defining crème, spray, mousse, etc.
Please note: Curl defining products are more effective when applied to wet hair. Mix these products with our French Argan Oil to maintain softness and manageability.
Tips:
Due to the steam curling process we do not recommend straightening this texture as it will loosen the wave pattern.
A curling wand/iron may be used at a low temperature to blend with natural hair or define the waves.
Handling the hair during the drying process can cause frizziness.
If a fuller look is desired, wait until hair is completely dry to manipulate.
To revitalize wave pattern:
Spray with water;
Use paddle brush to detangle wet hair;
Distribute product evenly;
Scrunch;
Allow to air dry or use diffuser for more volume.
General Maintenance:
Shampoo and condition with Indique Hair Care Essentials weekly to maintain softness and manageability.

Our products are sulfate free, moisturizing, and infused with French Argan Oil. The shampoo gently cleanses, replenishes vital moisture, and maximizes shine. The conditioner provides hydration without weighing down the hair.

It is suggested that you visit your stylist regularly to have your hair and extensions shampooed, especially when wearing a sewn-in installation. It is critical that hair is properly cleansed and dried. Hair extensions should not be handled rigorously and should always be shampooed in a downward motion.

Keep styling products to a minimum to prevent weighing down the hair. Indique Hair Care Essentials French Argan Oil may be used as a deep conditioning treatment to maintain the smooth and lustrous texture of the hair. It also works as a heat protectant. Use a dime size before blow drying, flat ironing or curling.