Customer Reviews
Write a Review
Ask a Question
03/02/2023
Sinead P.

United States
Get it
I love the ponytail so far. I've been wearing it for a week and it hasn't fallen off The hair is soft and it's close to blow out texture. The only thing I don't like is the bulk of the netted part that is used to cover your hair.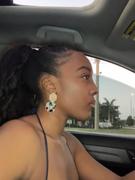 The best drawstring ponytail ever!
I love this ponytail. It is a lifesaver! I love that is sooooo full and super easy to put in and take down. I love using it for my go-to bun style for last minute video calls! Everyone needs a quick pony like this.
Features
Get maximum volume with Indique's Remix Blow-Out Ponytail, and this beautiful texture will give you the density you need in just a few short steps. This low-luster ponytail colored to a natural 1B tone can fit comfortably over your natural hair for a seamless blend, Available in lengths 12 and 22 inches you can get the perfect ponytail for just $289.
Hair Care
Use our specially designed Shampoo and Conditioner Combination to maintain the health and moisture of your ponytail extensions, follow with our Argan oil to soften your extensions and minimize your frizz. Protect your strands with Indique's Essential Heat Guard while servicing your ponytail with styling tools.
Durability
Ponytails can last up to a year with proper care.