«

Previous
Next

»
Using our reinforced wefts on a sturdy base, the PURE Wavy U-Part has 2 clips and 4 combs that allows the unit to fit perfectly. The versatile u-shaped part at the top of the unit allows you to easily adjust how wide or narrow your leave-out is, helping you achieve a multitude of styles. Offered in two sizes and lengths, the PURE Wavy U-Part is the perfect choice for the woman on the go.
Use our Indique measuring system to select your size! When fitting for an Indique U-Part unit, a few measurements should be taken into consideration. Use a measuring tape or download our Indique Ruler in order to get an idea for which size wig (Medium or Large) best suits you. In order to get the most accurate dimensions, measurements should be taken with your natural hair either braided or in a flat wrap. The presence of an existing install will give inaccurate results.
Download the measuring and installation guide for step-by-step instructions here.
Wavy hair has a signature fall pattern that creates effortless movement and outstanding body. Virgin Indian remy hair extensions are natural and typically come between a color 1B and 2. Indique's PURE Wavy hair texture is very versatile: this hair can be worn one length or in layers—the natural wave pattern is simply gorgeous. PURE Wavy holds curls beautifully and flat irons smooth and straight. Each U-Part contains between 6.5 and 7 oz of hair.
Indique is proud to present The Pure Collection: This prized collection consists of hand-picked pieces of genuine, 100% Indian remy hair. Our PURE hair is available in lengths ranging from 10" to 30" and is available in rich, virgin hair color. Indique's PURE Collection is the finest hair in the industry and available to you now.
PURE WAVY UPART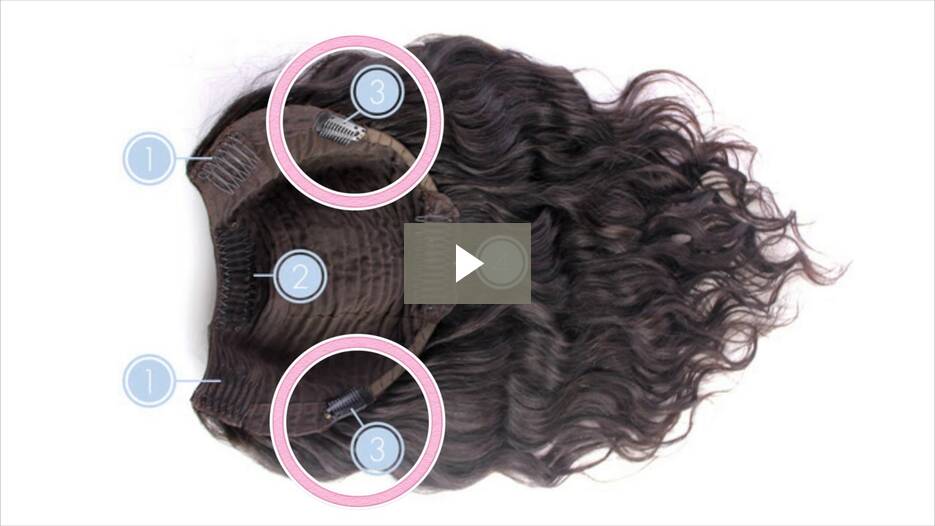 View more videos on Indique TV!
Tips
For full details including installation instructions, please download our measuring and installation guide
GENERAL MAINTENANCE:
Shampoo and condition with Indique Hair Care Essentials weekly to maintain softness and manageability. Our products are sulfate free, moisturizing, and infused with French Argan Oil. The shampoo gently cleanses, replenishes vital moisture, and maximizes shine. The conditioner provides hydration without weighing down the hair. How to properly Shampoo the U-Part:

It is best to shampoo your unit by diluting Indique Sulfate-Free Moisturizing Shampoo in a basin of lukewarm water.
Be sure to brush the entire unit before submerging in water. (Always use an extension brush (paddle brush) on your unit, brushing from ends to root. )
Use a plunging motion to cleanse.
Afterwards, rinse under lukewarm water and follow with Indique Sulfate-Free Conditioner.
Use fingers or wide tooth comb to evenly distribute the condition and detangle. Leave in conditioner for 10 minutes.
Rinse unit under cold water to retain moisture and seal cuticle.
Allow to air dry.


Keep styling products to a minimum to prevent weighing down the hair. Indique Hair Care Essentials French Argan Oil may be used as a deep conditioning treatment to maintain the smooth and lustrous texture of the hair. It also works as a heat protectant. Use a dime size before blow drying, flat ironing or curling.
Tips
Pure is our flagship collection of virgin Indian hair, completely natural and untouched. Since the hair in this collection has not been altered in any way, it has the ability to be manipulated with any hot tool and return to its natural state.
Straightens easily with flat iron.
Texture allows for long-lasting curls.
Returns to its original wave pattern after every shampoo and condition.
To define waves:

Use paddle brush to detangle wet hair;
Distribute product evenly;
Scrunch;
Allow hair to air dry or use diffuser for more volume.

Handling the hair during the drying process can cause frizziness. If a fuller look is desired, wait until hair is completely dry to manipulate.
Product Suggestions: Indique Hair Care Essentials French Argan Oil; Curl defining crème, spray, mousse, etc. Please note: Curl defining products are more effective when applied to wet hair. Mix these products with our French Argan Oil to maintain softness and manageability.